"The Alu Kurumbas, a small tribe numbering just about a thousand souls, live in the forest regions of the Nilgiri Hills of South India. Traditionally, they are occupied with food-gathering, hunting, practicing shifting cultivation. The language spoken by them is an independent member of the southern branch of the Dravidian family languages."
Since the Alu Kurumbas are a tribal community in South India, their oral tradition of the Ramayana is of great significance to us as it possibly presents us with a more indigenous version of the Ramayana, as opposed to the aryan-ized version by Valmiki!
For that reason, without further delay, I am posting scans of the pages of this research paper, as it is not available for free online. I have underlined some important parts of each page in red and will comment on these aspects of the research paper just below the respective pages.
[While it is true that these texts may have their predominant source as the Aryan (Sanskrit) Literature, it is also likely that, if we consider the Ramayana as itihaasa, some traditional (indigenous) aspects of the Ramayana have also been incorporated into this non-indigenous text, just as it the case with other tribal versions of the epic. That being said, lets continue reading and see the similarities and differences between this version, and other folk Ramayanas as well as Valmiki Ramayana...]
[In Ala Kurumba Ramayana, only 3 wives of Dacara (Dashratha) are mentioned. In contrast, Valmiki Ramayana shows Dashratha as a lusty man, having 350 wives. In both versions, Dashratha was struggling for children. However, unlike Valmiki Ramayana, there was no Putrakameshti Yajna in Alu Kurumba Ramayana. Dashratha simply had to kill 101 elephants.
In addition, in Alu Kurumba Ramayana, Ravana did not know of Emme-Daruma-Raja (Lord Yama). When he learned about Yama from Indra, he cursed him to become a beetle. On the contrary, in Valmiki Ramayana, Ravana defeats Lord Yama in war (Valmiki Ramayana 6.7.13-15)]
This version of Ramayana ends with Rama uniting with Seetha, and does not show Uttara Kanda events, thereby supporting the claims I made in an earlier post that Uttara Kanda is a later addition to the Valmiki Ramayana.
From the above passages, there is some evidence that Seetha accepted Ayi-Ravana and Mayi-Ravana as her husbands after the Pandya king gave her to them. When Rama saves Seetha for the first time from Ayi-Ravana and Mayi-Ravana, they think that she was abducted by Rama, instead of freed/rescued by him. Now, if they had held Seetha as hostage against her will, why would thoughts that she was abducted (instead of freed/rescued) by Rama rise in their minds (i.e. abduction only happens when the victim is not willing to go with the perpetrator)? They ought to have thought that Rama had saved her from them. The fact that they instead think that Rama had abducted Seetha suggests that Seetha was willingly living with them (Ayi-Ravana and Mayi-Ravana) and therefore, when Rama took her away from them, it was her abduction, not rescue. This would also explain why both the brothers were willing to take the pain to go to Ayodhya and plan for a way to bring Seetha back to the netherworld!
Unlike Valmiki Ramayana, in this version of Ramayana, there is no major emphasis on how devoted Seetha was to her husband Rama. There was also no Agni Pariksha by her to show Rama that she was pure. Instead, there was a burning of her body into ashes, followed by the amalgamation of these ashes to form her again. How one interprets this is entirely upto themselves... What are the various aspects that fire and its associated heat can symbolize?
As I mentioned earlier, in this version of Ramayana, Hanumana was the most glorious character, and can be coined the hero of the epic. He was a very intelligent, shrewd, cunning, brave, and sexually attractive man. Furthermore, his devotion to Rama, and the extent to which he was ready to exert himself to save Seetha is praiseworthy.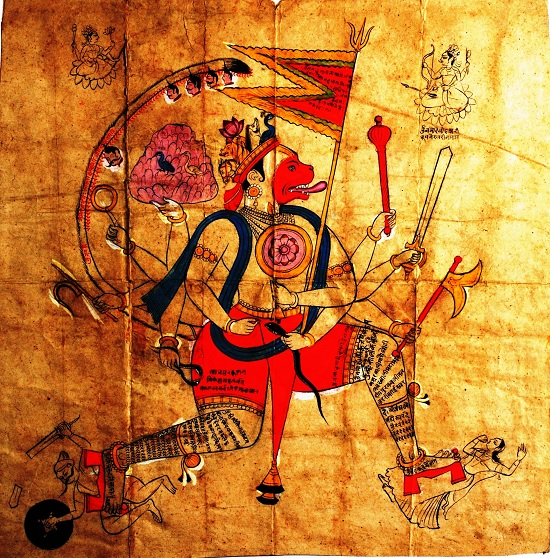 Hanumana - The Hero of The "Alu Kurumba Ramayana" - Source